Charitable Organizations
A Non-profit that Gives Back
Charitable contributions are important, each year the Tucson Celtic Festival Association chooses a local charity to support at our annual festival. We are a non-profit, 501(c)(3) that has been fortunate enough to be able to support other non-profit groups in the Tucson community such as Retired Paws, the Tucson Community Food Bank, and Tu Nudito. If you are part of an organization and would like to be considered for our Charity of the Year, please email us your one-page story telling us about your organization and why you would like to be considered. Requests are due by April 1, 2019 and should be emailed to tucsoncelticfestival@hotmail.com. Thank you!
We will be supporting Parkinson Wellness Recovery on Friday night. They are a non-profit organization dedicated to helping those living with Parkinson's have a better quality of life. Click here to find out more!
The St. Patrick's Day Committee: 'Workin For Tips At The Village Pub'
Those charming, handsome, hard working ladies and gentlemen you encounter as you step up to purchase your favorite libations at The Village Pub are volunteers for The St. Patrick's Day Committee who are raising money to support The St. Patrick's Day Festival & Parade.
Please be sure to stop by the booths of the two great charitable organizations we will be supporting for this year's festival.
---
Charity of the Year
Aviva Children's Services - Since 1978, Aviva Children's Services has strived to fulfill its mission of providing enhanced services to improve the quality of life for children who are victims of neglect, abuse and poverty, and are in the care of the Department of Child Safety (formerly CPS) in Pima County. You can find out more about Aviva Children's Service here.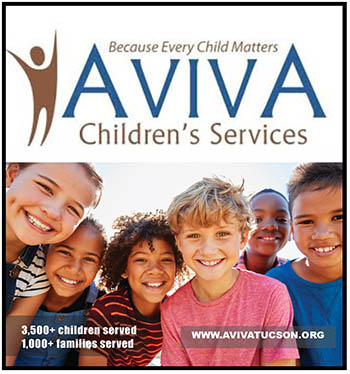 ---
The Tucson Celtic Festival Association Is Proud To Offer Support
We have contributed to many of Tucson's Charitable Community Partners over the years. Among them are:
Ancient Order of Hibernians
Arizona Greyhound Rescue
City of South Tucson Police Explorer Post 317
Civil Air Patrol
Emerge Center
Hope No-Kill Animal Shelter
La Paloma Family Services
Primavera Foundation
Protect Police K-9
Retired Paws
St. Patrick's Day Parade Committee
TRAK Therapeutic Ranch for Animals and Kids
Tu Nidito
Tucson Community Food Bank
Tucson Police Foundation
Tucson Steeler's Youth Football League
Youth on Their Own
---
Thank you
A big thanks to everyone who came to the 32nd Annual Tucson Celtic Festival & Scottish Highland Games. We appreciate your support and can't wait to see all of you next year. 
---
We Look Forward To Seeing You At The Festival Soon! - The Tucson Celtic Festival Team
Tickets are available at the festival gate & online.
---
If you would like to make a donation directly to the Festival it would be greatly appreciated.