Welcome Clans and Societies to the
33rd Annual Tucson Celtic Festival and 
19th Annual Scottish Master's Athletics Heavy Events World Championship
Welcome to the 2019 Tucson Celtic Festival. This year we are incredibly proud to host the Masters World Championship Highland Games! From Iceland and Germany over the last two years – this is the year of Tucson, Arizona! As your Vendors Chair, my hope is for this to be as exciting and rewarding to you as it is to the Tucson Celtic Festival Association.
Attendance will be higher. We have partnered with Arizona Lotus Corporation and their six local radio stations to extend our marketing. We are also presenting a "World Celtic Concert" on Friday night, instead of our former activities. Our concert will feature The Tossers, supported by The Young Dubliners and Celtica, with opening music from Eldritch Dragons.  Gates open at 5:30 PM.   Yes – there will be another free Program-magazine for our guests this year. It will likely expand to include photos and mini-bios on the 155 athletes invited to attend from around the world. We need to cover the printing costs with advertising, so if you are interested in advertising in over 5,000 souvenir programs, please contact me at TCFA.Vendors@gmail.com.
Finally, a World Championship venture such as this has increased over overhead costs dramatically! We need sponsorships to help. I want to thank Kevin Haggard from Heritage Meat Pies/Sunblest Foods for sponsoring our Hammer Throw competition. If you are interested in a tax-deductible sponsorship, please contact me. We are looking forward to seeing you on November 1st!
The deadline to register is October 1, 2019. If you would like to be included in the festival program, submit your registration by September 15.  You may click on the link below to register online. After completing the form you will be redirected to PayPal to complete your purchase.  If you have any questions or difficulties registering, please email us General@TucsonCelt.org. Slainte!
---
The Definition of a Clan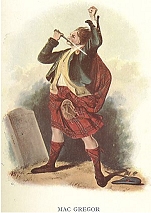 The Gaelic word for 'children' is more accurately translated as 'family' in E'en Do bait Spair Nocht. the sense in which the word Clan became accepted in the Scottish Highlands during the 13th century.
A Clan is a social group whose core comprises a number of families derived from, or accepted as being derived from, a common ancestor.
Almost without exception, that core is accompanied by a further number of dependent and associated families who have either sought the protection of the Clan at some point in history or have been tenants or vassals of its Chief. That Chief is owed allegiance by all members of the Clan, but ancient tradition nevertheless states that the Clan is above the Chief.
Although Gaelic has been supplanted by English in the Lowlands of Scotland for nearly a thousand years, it is an acceptable convention to refer to the great Lowland families, like the Douglas', as Clans although the heads of certain families, such as Bruce, prefer not to use the term.
Allegiance was generally given to a father's Clan, but Celtic tradition includes a strong element of descent through, and loyalty to, a mother's line. In reality, the chief of a Clan would ingather any stranger, of whatever family, who possessed suitable skills, maintained his allegiance and, if required, adopted the Clan surname. We welcome all Clan and Societies to participate in our Festival. To register please submit your application today. Slainte!
Resource for Clan definition: http://www.clangregor.org